World's Best Bed Sheets | The Sheet People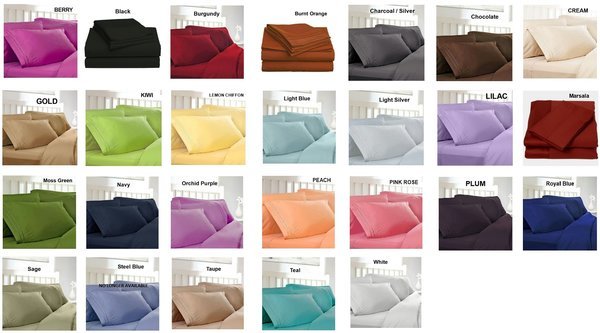 The World's Best Bed Sheets are brought to you by The Sheet People. Our company has changed the standards of bed sheets. We have all heard of flannel sheets, cotton sheets, silk sheets, and of course, egyptian cotton sheets. We offer the world's best quality Egyptian comfort sheets on the market today. Most importantly when searching for a new sheet set is the actual thread count, or the type of fiber used to make the sheet. The world's best bed sheets have already been named as egyptian cotton for many reasons. Some of those reasons are due to the fact that egyptian cotton is made from a longer fiber, creating a stronger fabric, which in return makes a softer and more luxurious feeling bed sheet. Egyptian cotton is handpicked. This means that when it is time to create bed sheets much less stress is used during the process, creating amazingly soft and durable bedding.  
When it comes to the different thread counts of egyptian sheets there are many different numbers that you will usually see. Common numbers range from 200 to 800 thread count. Most times when shopping for new sheets you will frequently come across this range. Two hundred being the lowest and 800 being the highest. The higher the number, the better the sheets. We have created a sheet that is so comfortable, high quality, and inexpensive that we sell them to hotels, furniture stores, B&Bs and also to anyone else that wants to sleep on lavish sheets every single night. The Sheet People have gone beyond the 800 thread count expectation to be considered a deluxe sheet. We offer our customers incredible 1800 thread count sheets at an exceptional prices. We are only able to offer such beautiful sheets as a result of cutting out the middleman and offering what we feel is best to our purchasers.
Why do The Sheet People offer the World's Best Bed Sheets?
Many times we are asked what separates our world's best bed sheets from other competitors. There are 4 distinct reasons. Number one: Luxurious 1800 Thread Count Egyptian Sheets. Number two: Price, the price is right. In fact all of our sheets, sizes ranging from Twin to Flex Top Split King start at $39.95. Number Three: All the colors! With over 30 colors to choose from The Sheet People can help you match up your duvet with no problems! And last Number four: The fourth reason for having the World's Best Bed Sheet is superior service.
Shop our Bed Sheet Store today!
Shop Now